The KE team is honored to accept the ABC Construction Company of the Year Award for the Minnesota/North Dakota Chapter. As a growing company, we take pride in keeping our small-town roots and applying them to our relationships with our customers and the level of care we provide for our employees. Knobelsdorff's connection with Associated Builders and Contractors started back in May of 2009 when we became a member of the MN/ND chapter. Their beliefs and passion for promoting the merit shop way of doing business were something we wanted to be a part of. Since joining the local chapter, we've worked with ABC on developing solutions to the issues construction companies like us encounter on projects. Their team knows exactly how to drive the issues to where they need to go to be discussed at a level that brings solutions to the problems we face.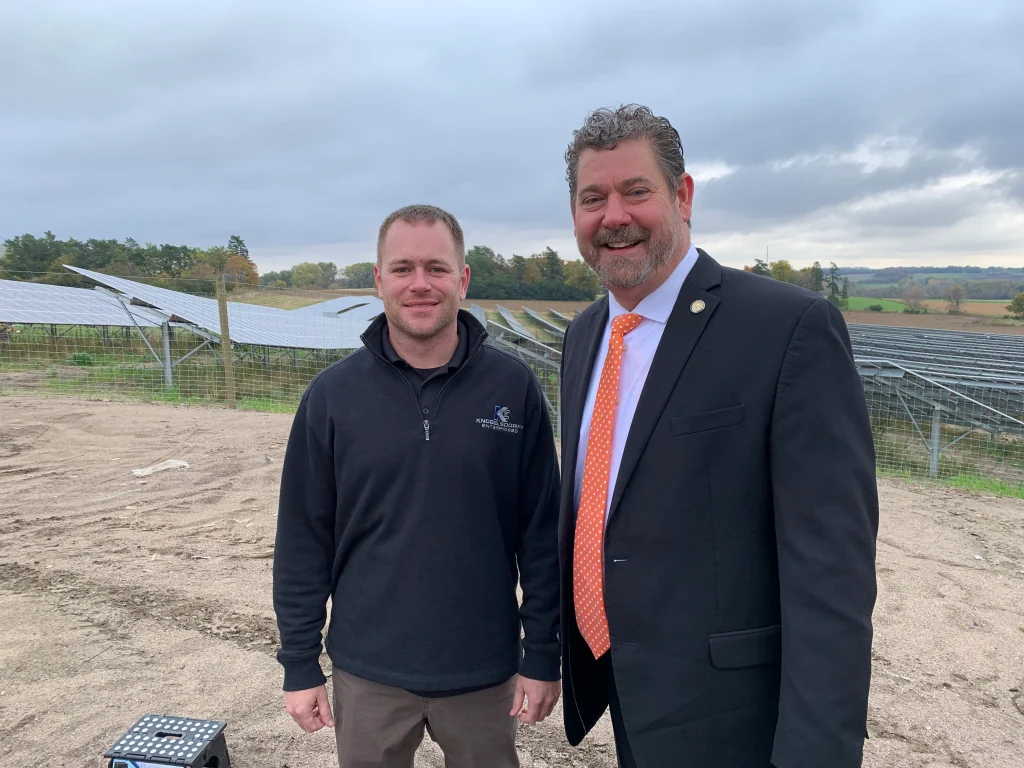 We've had the pleasure to work with Adam Hanson, Director of Government and Public Affairs at ABC over the past few years. He brings a point of view to the table that allows us to advance our knowledge of the legislative side of the business. He's been able to provide us with on-site meetings with local government officials, giving us the opportunity to share our side of the construction industry and the issues we'd like to see solved. We appreciate all the hard work Adam puts into our company's involvement and we consider him a part of the KE team.
Adam took the time to write a congratulatory piece to Karl (CEO/President) on behalf of himself and ABC:
Dear Karl,
On behalf of Associated Builders and Contractors of Minnesota and North Dakota, congratulations on being named the Construction Company of the Year for 2019. Having worked with you and your team for four years, I have seen firsthand your commitment not only to our ABC chapter but to the entire merit shop construction industry itself. Knobelsdorff Enterprises is a second-generation ABC member, something we truly value in our chapter.
One area that stands out to me about Knobelsdorff Enterprises' work over the past year is becoming an active participant in our legislative and regulatory efforts. You have hosted five state legislators on various projects in those legislators' districts, from groundbreakings to ribbon-cutting ceremonies to giving a walkthrough on solar projects while they are still under construction. These legislative visits are an indispensable part of ABC's efforts to promote the merit shop philosophy and showcase the outstanding work our members perform throughout the state.
Recently, you were awarded the Platinum STEP Award for your company's track record of implementing world-class safety processes and best practices. With each of your projects comes a level of safety and training that is among the best in the industry. You and your team have invested countless hours and resources to ensure that each of your employees has what they need to perform work safely and properly on your solar, commercial, and industrial projects.
Congratulations on being named our chapter's Construction Company of the Year for 2019. We thank you for your support of ABC, the merit shop construction industry, and we look forward to your continued success in the years to come!
Sincerely,
Adam Hanson
Director of Government and Public Affairs
Associated Builders and Contractors of MN/ND
On behalf of Karl and everyone at Knobelsdorff Enterprises, we'd like to say thank you to Adam for his words and ongoing support, and the ABC Minnesota/North Dakota Chapter for naming us the Construction Company of the Year for 2019. We look forward to becoming even more involved with the philosophies they represent, along with maintaining strong connections with legislators to continue moving the industries we serve in the right direction.
Looking to work with KE on an upcoming project? Get a Project Quote here.