At our office in Eagan, MN, we have a team of Controls Engineers. These individuals work together on engineering larger control systems, taking pieces of the larger picture and building out their portion of the process before combining everything at the end. These individuals also work independently of smaller systems, sometimes being the one person designing, programming, and implementing a new control system.
What is a Controls Engineer?
If you ask five different people from different companies, odds are you'll end up with five different answers. At Knobelsdorff Electric, Controls Engineers are involved in designing a process from beginning to end.
Control System Engineering at KE
First, the Controls Engineer takes source documentation of a project and breaks it down to determine how the process needs to work. Then, they figure out how controls need to be designed to make that process happen.
From there, they design the panel and program the system, which includes creating the code or the program to run the system they're designing. Next, the designs are sent to our in-house panel shop and built to standard. Once built, the Controls Engineer goes on to document and test the program and the control panels as a system before it goes out into the field.
After installation and wiring, the Controls Engineer who designed the controls system goes out into the field to perform final testing and commissioning of the system.
Engineering Controls from Start to Finish
One thing we've learned as we continue to grow our Controls and Engineering Department, and the company as a whole, is that staying with a controls system from initial design to post-installation testing is a bit uncommon. But, we've found the benefits far outweigh the costs.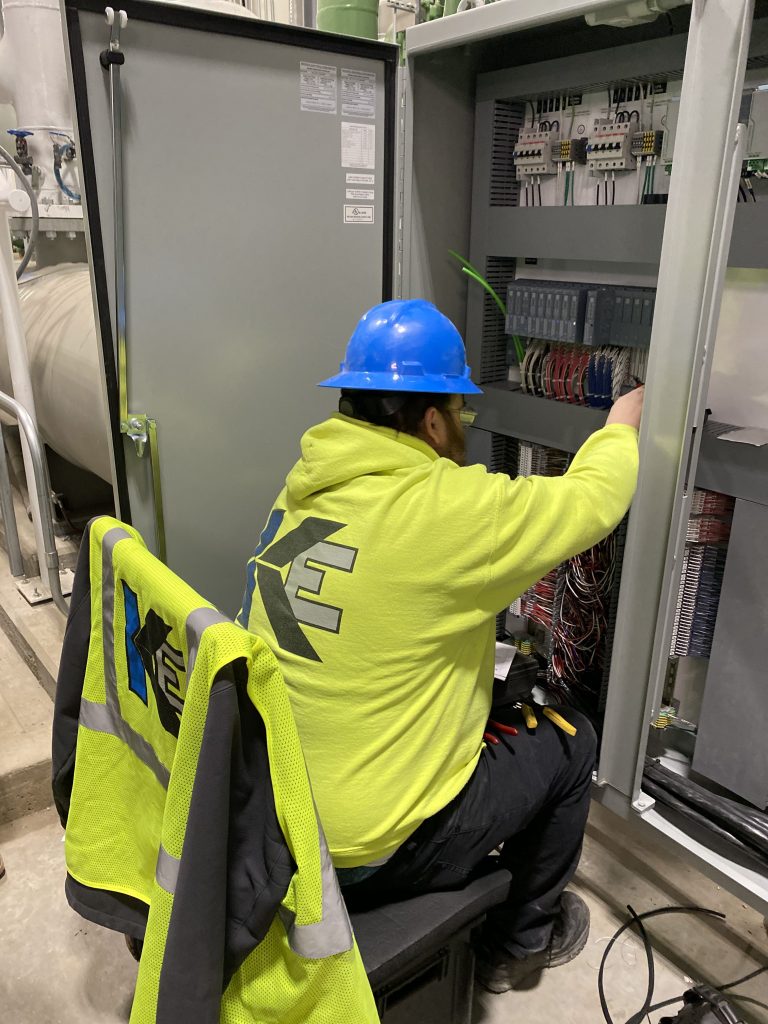 Controls Engineers who design custom controls for a particular process have a lot to gain by staying involved at various stages of a project. Seeing something they've designed on a computer installed at a facility and doing exactly what it was designed to do is pretty exciting. Designing controls comes with a lot of responsibility, but seeing it all come together brings a lot of satisfaction.
Controls Engineer Positions at KE
Remember that team of Controls Engineers we have working in Eagan, MN? They're ready to grow. With the number of projects we have coming in and their complexity, we're on the lookout for experienced Controls Engineers who have a willingness to learn and a desire and drive to take projects from start to finish. We already have a great team, but there's room for more. If you're interested, apply now.